Suckerism is not a circumstantial folly but an active emotion.
Lionel Josaphare
All hail the great unacknowledged scholar of suckers and suckerism, Lionel Josaphare (1876–?), whose work belongs on the shelf with your other fish books. It even includes valuable information missing from all those old Jordan & Evermann books and your $250 copy of Becker's Fishes of Wisconsin. Though they covered a great many species, they apparently ignored quite a few. According to The World of Suckers, published in 1909,  some of the major sucker species are:
The Biped with the Coin
The Sucker Who Wants To Get Rich Quickly
The Voter
The Man Who Wants To Go to Heaven
The New Thought Sucker
The Soldier
The Lover
The Girl With the Demon Lover
The Sucker in Search of Happiness
The Optimist and the Pessimist
The Sucker Who Fears Public Opinion
The Sucker Who Tells the Truth
The Idealist and Reader of Fiction
The Astonished Sucker
and more!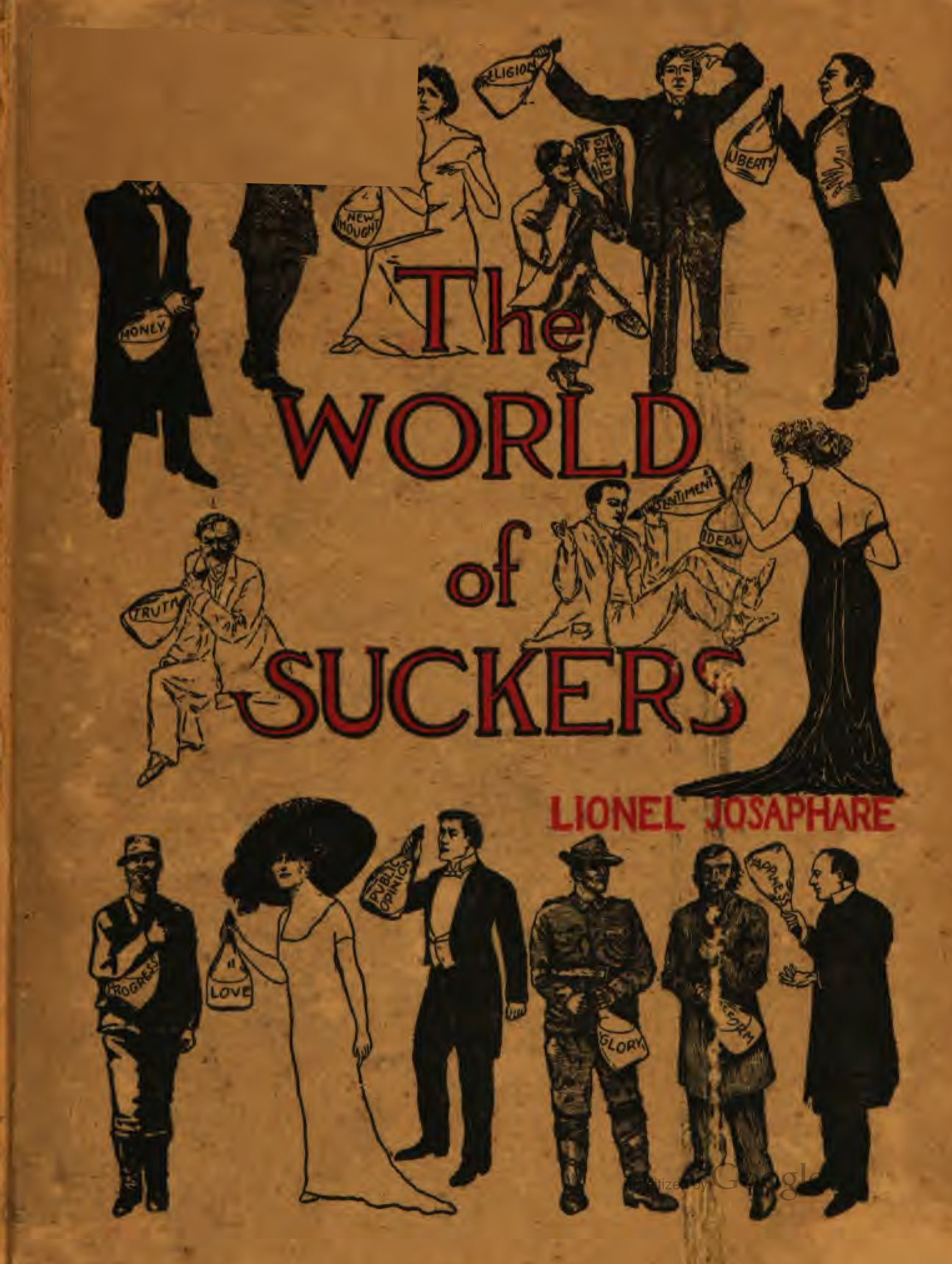 Josaphare covers everything you could possibly want to know about suckers AND suckerism.
For example, he provides a definition of the word "sucker"
[p. 1] It has been suggested that the word "sucker" arose from the name of a sweet and unsophisticated fish that skips through the waters of the Great Lakes and inflowing streams. Its aptitude for the hook was first the delight and then the ridicule of its captors, who were, perhaps like many good folks, looking for something at once delightful and ridiculous.

[…]

"Sucker," then, on the face of it, means one who sucks obviously at an idea. Ideas are the milk of the mind, the nourishment of the soul, the food of national greatness. And even as a cow, or any female animal, unless soft hands or mouths take the milk, would corrupt its product, so would great ideas drivel over and dry without suckers.
He explains the Absolute Necessity for Suckers:
[p. 3] In order that civilization progress and partake of poetic grandeur continuously or now and then, there must be, ready and willing at all times, a predominance of joyful and high-spirited fools. These supply the hurrah and sentiment, money and labor: Make no mistake; these are not fools of the brain, but fools of the world. In themselves they are good, law-abiding, tax-paying, intelligent men; virtuous or avaricious, as they are wanted.
He also provides some Remarks on the Growth of Suckerism (p. 6). He settles a question we have long debated by revealing The Greatest Sucker of All (p. 85), and describes An Ordinary Day in the Life of a Sucker  (p. 102).